Today I am in Melbourne with over 250 other bloggers for the Nuffnang Blogopolis conference.
A few months ago I changed my blogging focus and direction.  I've always loved writing so it made sense to turn my blog into a place for me to write more, and so I am, and I love it.  You can read all about my blog, my way here.  I am really excited to be learning more about blogging and bloggers at the conference and I am sure that I will come home on Sunday energised with plenty of ideas buzzing around and possibly a slightly sore liver from a cocktail or two too many ;)
Given that I am spending the day with bloggers I thought it an opportune time to share some of my favourite blogs with you, and I hope that you will share some of your favourites with me too!
I have had a long time crush on Mel (I've been reading nearly as long as she's been blogging).  She truly is the craftiest of crafty mumma's.  I love the stories and ideas that she shares and I adore that she seems to love colour just as much as I do.  The fortnightly newsletter Mel and Tamar are producing, Teapot, has so many fun ideas and projects in it.  I am super excited to be meeting Mel this weekend.
Kate is one of the most beautiful people I have ever had the pleasure to meet.  She is warm, generous, creative and has a great sense of humour.  Like me she smiles, alot.  She also has lots of kids and a playdate with Kate + kids means lots of girly dressing up and giggling.  Sebastian hasn't quite decided which twin he's going to marry just yet, he loves them both ;)  Kate blogs about life, creating and living to 100.  Her honest writing has had me in tears (both happy and sad) many times over the years.  We have lots in common, particulalry our desires for simple-green-creative living.
Like me, Morgan is a fairly young mumma of 4 (except she has the opposite, 3 boys + 1 girl).  I came across Morgan's blog one morning when I was blog hopping and have been a regular reader ever since.  Morgan hosts a fun, weekly Meme small style and will be co-hosting a sew along with me in September.  I think that we are both a bit silly excited about it :)
Is a blog by two Californian born sisters talking about all things beauty & fashion that are organic and good for you.  Totally up my alley.
Jodie is a Mumma to 6 and is awesomely creative.  I love her colourful creations, home decorating and writing style.
Christy is an amazing creative.  Her She art classes have inspired a few of my scrapbooking friends to dive head first into the worl od mixed media.  Her creations and ideas are totally inspiring and make me want to get all messy with paint and mediums every single time I read her blog.  Her blog definitely inspires my inner artist.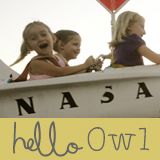 Danielle's blog is one of my daily reads.  I love her op shop finds, outift inspiration and all around cool style.  Her writing is honest and I love that she is just herself.  Really looking forward to meeting her this weekend.
Chantelle's blog makes me feel happy.  I love the things that she posts about and her style of writing.  I started reading right around the time she travelled to Disneyworld earlier in the year for a blogging conference and was completely inspired to change my blog focus...and I did, right away.
Lauren is my sister.  She fits right in a blogging category all of her own.  She's a 20 something creative type studying and currently a little bit addicted to the gym, perhaps she's found some cute boys there?  She posts lots of inspiring tidbits and things about herself. 
You might remember Jane from such shows as all together now and neighbours...well she also makes over furniture, designs gorgeous interiors, bakes cakes, collects coloured glass and is releasing her own range of soft furnishings soon.  Do you think I'm jealous much ;)  Her blog has lots to visually delight and who knew actresses were so honest and down to earth :)
So there you have it a short list of 10 blogs I love to read, by no means is this a full list but they were the first 10 that came to mind as I was mentally preparing for Blogopolis.
Don't forget to share your favourite blog links with me!
Happy Weekend
Tatum xx